Ok, its the 12th of December but we are only on Day 2 here. This could take some serious effort to catch up but somehow I will build up the courage to tackle these little drams.
Johnnie Walker Blue Label is actually one I haven't tried before which might be surprising and I can't deny I have wanted to get a bottle for while. The thing has always been with so many bottles available at any one time, somehow a stable like Blue Label always gets bumped for something newer or rarer.
FOMO essentially.
This for me is the value and attraction of these calendars because I get exposure to a box full of little gems that have been on the list but never got in the shopping basket. There is a second benefit as well when you try something you expected or hoped to be brilliant but was a total stinker. To pour a single measure down the drain is one thing but a whole bottle is next level pain for sure.
So lets get into this flagship mainstay Johnnie Walker. I have already written about Johnnie Walker a lot in the past. Some have been reviews and these to be fair I been a mixed bag between the excellent Double Black and the completely disappointing Green Label. I have also been to the small exhibition in Kilmarnock and the reasons for why there is a small exhibition and not a bottling plant is explained in detail in History of Johnnie Walker and Kilmarnock 1820-2012.
So while a bottle of Blue label won't have the Kilmarnock address on it anymore we can still buy some and see what we think.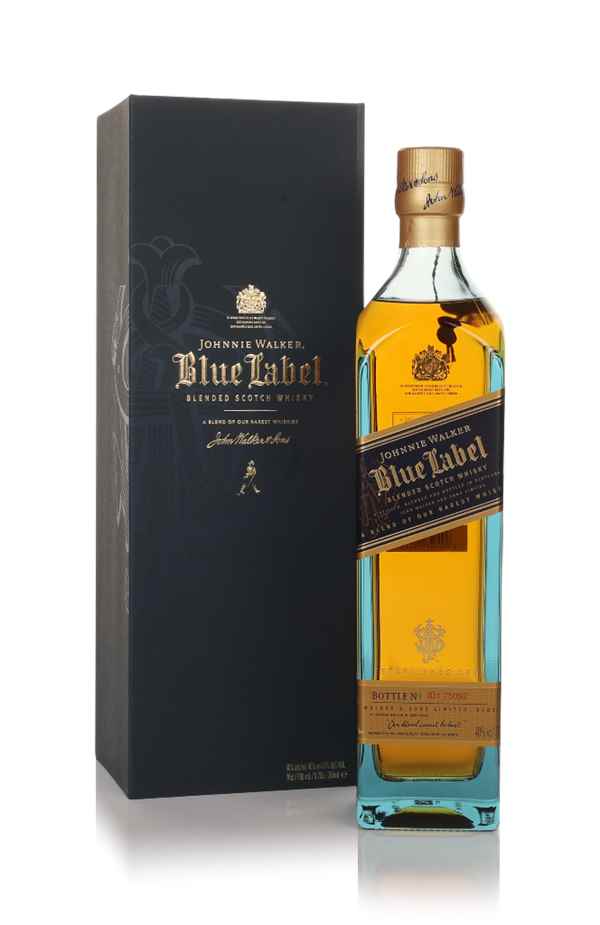 Colour – artificially coloured
Nose – traditional profile some background muddy peat, little honey with sweet top notes of peardrops. All this is wrapped in a fair amount of heat for 40%
Palate – pretty watery but not offensive. Very much how you expect a blend to taste. Does that make sense?
Finish – very short
Predictable I think is the watchword here. I remember a review on malt-review on Royal Salute mentioning this as well. These premium blends are still blends and they are stuck in a rut their owners are scared to move away from. It looks, smells and tastes exactly like the average whisky would look, smell and taste to a casual drink.
This makes sense because for every reader of a whisky blog are 10's of thousands of people who are buying bottles and driving the profitability of massive drink enterprises the world over.
All that being said would I pay £145 for a bottle? No way. Would I pay under £100 when it's on offer (it always is somewhere)
Also a no.