I hope I haven't lost too many people from my last article on something not whisky but also not even alcohol. Although to be fair I bet the Amazon drivers are still expected to ask for ID at the door!
We are back on safe ground today though so lets start rebuilding my reputation with an old classic.
The Distillery
The distillery in Pulteney was opened 1825 by James Henderson with his family owning the site until 1920. The town voted to copy the in vogue idea of prohibition and became a dry town in the same decade which was pretty rare in Scotland. Indeed before researching this I didn't know any places in the UK had such wild ideas.
The distillery would end up closed in 1930 with the downturn prohibition caused to the industry and would not reopen until the 1950's. The local businessman who reopened the distillery was also the owner of Balblair distillery. The distilleries histories would then forever be intertwined with both of these distilleries still with the same owner, Inver House.
When looking at the bottles the most distinctive feature would arguably be the bottles. With their distinctive bulb shape they replicate the unique nature of the Pulteney stills.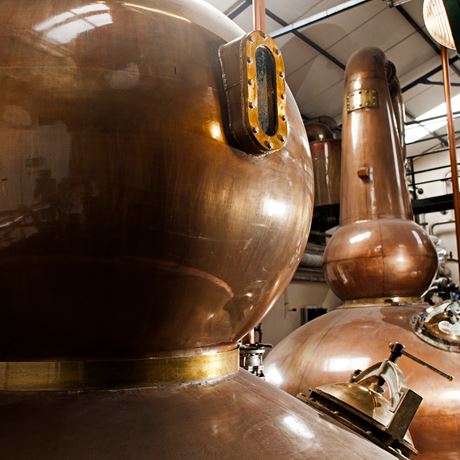 These special wide features of the still are really important to the character of the whisky. The resulting spirit is more refined due to large amount of reflux during distillation and when the vapours do eventually leave the stills they are condensed again in old school worm tubs. All of which contributes to the character of this very northern highland whisky.
The Dram
The 12 year old age statement is matured entirely in ex-bourbon barrels. The distillery do use other types of wood but not in this release which is widely available and another of my supermarket sweep purchases. Regularly available at around £25 there is little you can argue with on the price although this is the only release to be bottled at such a low strength.
Tasting Notes
Colour – light golden
Nose – Vanilla ice-cream with a crunchie bar with lots of cooking apples
Palate – Slightly briney perhaps but after eight mints and caramel sauce
Finish – lemon and kippers
Final Thoughts
The version I have is the old packaging version but the one you can get in the shops now is apparently the same liquid in a new bottle. This is an introduction malt to the brand and while I haven't tried anymore from the distillery I really must get that resolved.
If I am honest though the new range with its price hikes have been my barrier to entry. I don't think you should reward such naughty behaviour.