The final film this week, completing our movie special is The Angel's Share. A film which I have to admit I had never heard of before finding it from googling "Whisky Films Fiction". However, with box office sales of over £4 million and winning the 2012 Jury Prize at Cannes I must have been one of the few.
https://www.imdb.com/video/vi2046797337?playlistId=nm4834796
New dad Robbie (Paul Brannigan) finds himself with no job, a criminal record and a gang out to get him while also completing his community service. His girlfriend believes in him but her dad does not and offers him £5000 to disappear.
It is during his community service that his life will be changed forever. The supervisor Harry (John Henshaw) has a fine whisky collection and offers Robbie his first dram (Springbank 32 year old, described as pure shit by Robbie). It turns out the young man has a natural ability to describe and analysis whisky and before long his new community service friends, Harry and Robbie are at a whisky tasting event hosted by a Rory McAllister who is a Charles MacLean type character. So much so in fact that Mr MacLean plays the part.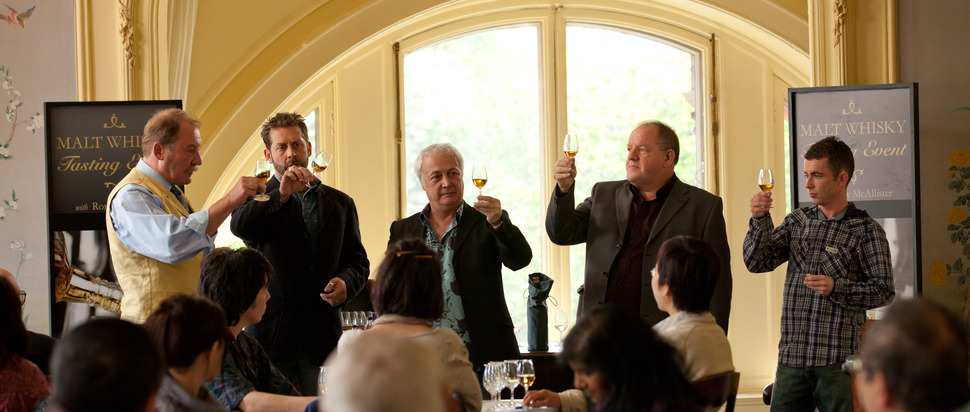 During this event the auction of a Malt Mill cask is discussed and from this a plan is hatched between the young offenders to make their fortune. They plan to break into the distillery, drain out a few bottles worth and sell it to the highest bidder. Fortunately, a collector is outbid on the cask but wants the liquid for the kudos and agrees to buy 3 bottles from the young gang for £250,000. In the end after two bottles are smashed by accident they get £100,000 for 1 bottle and Robbie negotiates a proper job with a "distillery near Stirling" with the buyer facilitating the apprenticeship. At which point our story ends and we hope Robbie and his young family have the happy ending they dream of and leave the cycle of crime and assault behind them.
The film is directed by Ken Loach and written by Paul Laverty with a number of the cast including lead Paul Brannigan being scouted off the streets of Glasgow to act in the film. The film is set in present day Glasgow and is extremely gritty and real. This side of Scotland is full of poverty, injustice and violence with the film portrayal being completely authentic in my opinion. Indeed Paul's own life is quite similar to that of the character he plays and this indeed helps in his acting throughout the film.
Very little of the film has much to do with whisky really and if that is what you are looking for I would move on although the film is packed full of humour. However, if you want to see the real Scotland in and around Glasgow then this is the film for you. As a country we might trade on our hospitality and our wonderful landscape but the reality for so many young people here is quite different. Locked in a cycle of poverty, drugs and crime they can realistically never hope to achieve what Robbie does and while the moral dilemma for the viewer is clearly present in how he achieves his happy ever after but you would need a stronger heart than mine to hold it against them when they achieve it.