The Lady of the Glen brand is a Edinburgh based Independent bottler I have been watching for a few years. A small company run almost entirely but one individual I have been impressed by his determination to mix it up with the larger competition in a mature market. I haven't given any coverage of their outturns which appear every quarter from their website and specialist retailers but now is the time to change all that.
In the next article posted on Thursday I have an interview with Gregor Hannah himself. I asked a number of questions on business and on the products which got some really interesting answers. More of that later though just now we will focus on the whisky and this one is pretty unusual.
The Dram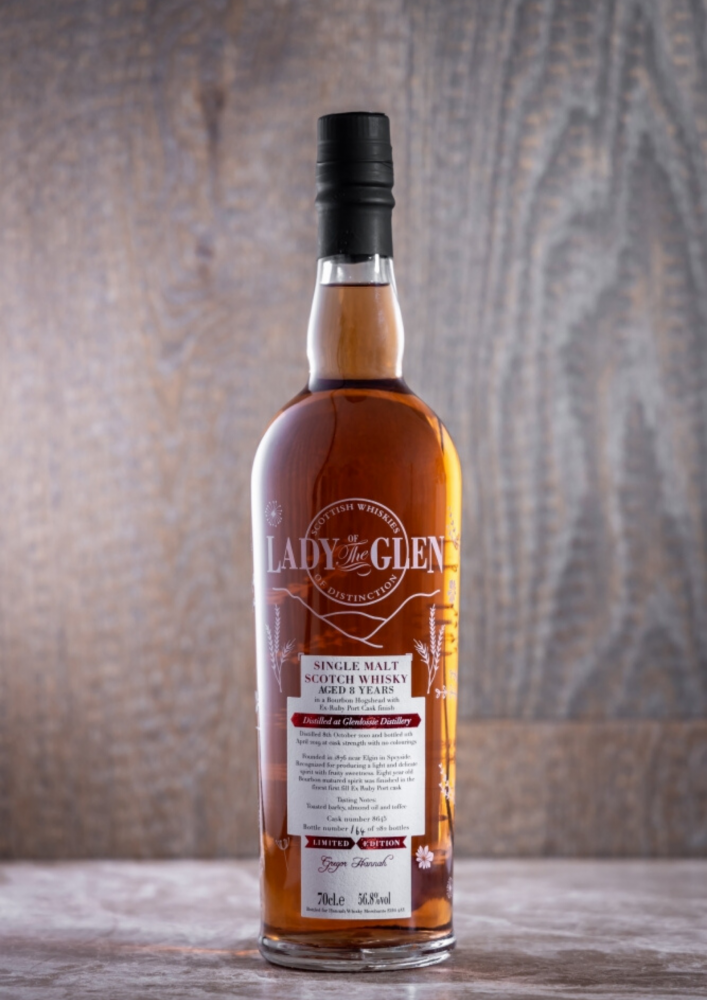 Over on The Lady of the Glen website this whisky has its own little writeup which I have copied below.
This ruby port finish single malt Speyside whisky was distilled on the 8th of October 2000 and bottled on the 10th of April 2019 at cask strength at the distillery.

Matured in Bourbon cask #8645, this eight year old Bourbon matured spirit was then finished in the finest first-fill ex-Ruby Port cask for over 6 months.

Our Ruby Port cask was sourced from a family-owned bodega near Porto in Portugal. Ruby Port casks typically bring fresh, sweet red fruit flavours to the spirit.

This cask yielded 287 bottles and is a rare Speyside single malt whisky.
Tasting  Notes
Colour – blood red
Nose – very sweet and actually remarkably like an actual glass of port
Palate – very thick and sticky. The texture is great. Lots of red fleshy tart fruits and treacle
Finish – a very long finish. Tobacco leaves and a touch of spice
Final Thoughts
Sometimes, you know, when you have quite a bit of content on a blog you start to feel whisky isn't as varied as perhaps some might want to believe. You start to wish for something wild,  something unique and something off the beaten track. I think I have found just that dram after quite a lot of safe whiskies this is a bold and daring dram and all the better for it.