I was lucky enough during the recent offering the committee edition release of Ardbeg Kelpie to get my hands on a bottle. With Feis Ile approaching from the horizon there isn't a better time to share what my view on the upcoming festival offering.
The Distillery
Ardbeg is another of the Islay peated heavyweights. Situated on the south coast of the Island near its rivals Laphroaig and Lagavulin, Ardbeg was founded in 1798 and began commercial operations in 1815. In these days peated whisky was primarily used as a diluted additive in blends. During the 80's and 90's demand reduced and the distillery suffered through years of minimal production and mothballing. It has been steadily producing award winning whisky since its return to full production in 1998 such as the lauded Uigeadail.
Ardbeg like all of the Islay distilleries engage in the annual island festival and have been producing yearly unique bottlings to mark the occasion. The turmoil of the last year with political upsets and international feuding has summoned this years Ardbeg offering in the form of the Kelpie.
The Dram
This bottle takes its name from the Scottish myth of a shape-shifting water spirit that would haunt the lochs, rivers and other bodies of water throughout Scotland. Kelpies can take the form of animals such as horses, bulls and even human form. It uses this ability to lure travellers towards it. Once near, they will drag the victim into the water to their death. As a result the people of Scotland built 2 large Kelpie heads to placate this dangerous force.
But what about this Kelpie in question that is currently masquerading as a bottle of whisky? This classic peated Ardbeg has been matured quite unusually in virgin oak casks made from wood from the Adyghe Republic, a state within the Russian federation. The literature states this wood was taken from forests leading down to the black sea which imparts a deep flavour on the wood. This is curious as Adygea is landlocked without any large natural bodies of water, therefore a particularly safe place to avoid Kelpies.
This committee edition comes as you would expect; cask strength and unchill filtered with an attractive nautical design. So does this Kelpie mearly appear attractive or does it hide a malevolent character like its namesake.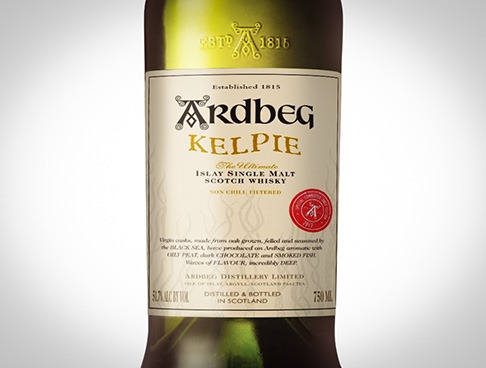 Tasting Note
Colour – Smoked orange
Nose – the most striking feature of this dram, initial sharp ashen peat with a unique wooden herbal undertone that transforms with time into a much different sweet creamy leather, almost a Kelpie in reverse
Palate – The palate follows the nose in this case with an initial blast of salted herbal peat reminiscent of fishermans friends, with the characteristic cured meat that reminds you this is an Ardbeg
Finish – when the peat recedes it unmasks a very pleasing mild wooden leather note reminiscent of a well-worn armchair
Final Thoughts
This is a complex thought provoking dram that thoroughly deserves the allusion to its shape-shifting namesake. It is still an Ardbeg but the Russian wood has clearly changed this onto something entirely different. I would recommend picking up a bottle if you manage to catch it.